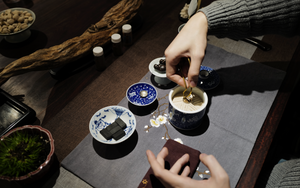 Breeze of Grace | Incense Ceremony 盈袖 · 听香
Regular price
Sale price
$138.00
---
Your Gifts
Receive complimentary testing of the Century Reserve Nha Trang Agarwood Standing Incense ($25 value).
Receive a complimentary, hand-written incense letter as your take-home gift. 
The Ceremony
A traditional incense ceremony (koto; 香道) performed by our incense therapist at Sunzen Art Gallery. An incense & meditation experience to bring peacefulness to your body and mind.
We invite you to appreciate the luxurious incense, to enjoy the most unique experience of incense burning, and to uncover the traditional ceremony that was widely practiced all around Asia. Meditating, while resting your mind in the peacefulness brought by the best incense selected by our incense therapist. We look forward to meeting more incense lovers! 
The Package
This Breeze of Grace Incense Ceremony package can accommodate a maximum of 5 people, the listed price of $138 is per ceremony. If you would like to experience the ceremony but have less than two people in your group, please contact us directly to inquire about our Shared Experience and special events. 
*Tips are strongly encouraged if you think your incense therapist did an amazing job. 
The Incense We Use
Your choice of 2 all-natural incense from Sunzen's Prime collection + Pursat Aquilaria
Aquilaria is a species of tree that thrives particularly in the rainforest of Pursat Region, Cambodia. Infected with the parasitic mould, Aquilaria trees will produce a crispy frankincense aroma that improves your metabolism and immune system. 
Sunzen's Prime Incense Powder Collection: 
Malaysia Agarwood Incense Powder
Nha Trang Agarwood Incense Powder
Hue Agarwood Incense Powder
Kalimantan Agarwood Incense Power
New Guinea Agarwood Incense Powder
Daragan Agarwood Incense Powder
Brunei Agarwood Incense Powder
Cambodia Agarwood Incense Powder
Sandalwood Incense Powder
The Experience
Start with learning the equipment of a traditional formal incense ceremony. Your incense master will introduce you to a variety of different incense powder, their fragrance, origin and health benefits. Once you have selected the incense you would like to try, the ceremony will begin. We will walk you through all the etiquette and tips you need to know, and your incense master will perform how to prepare the incense using traditional techniques. Now you can enjoy the aroma of the incense and have fun with the ceremony. 
After the ceremony, a traditional activity of writing the "Incense Letter" will be carried out. Your incense master will tell the story behind this tradition, and you all are encouraged to try it yourself! 
We hope the healing power from the grand nature and the ancient oriental tradition could bring you on a magical and relaxing journey. Regardless of old or new, we hope you have a wonderful experience at our incense ceremony. 
Booking and Cancellation
This is the deposit of your incense ceremony. You will need to pay the rest amount and tips after the ceremony. 
Please carefully review the Booking and Cancellation policy before making your reservation. 
Covid-19 Update
Please read our Covid-19 safety protocols before booking. Read Here >>